Okay, high time to update this. Here is the finished Ash Waste vehicle.
Here is another vehicle I'm working on for my Ash Waste Goliaths ( or Techno-barbarians)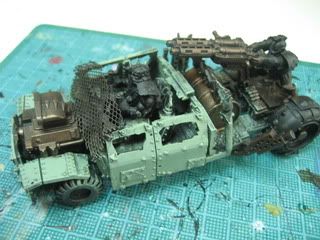 I really enjoyed building this one, especially because it's all from random bitz. I started drybrushing the cab with a 50/50 mix of dheneb stone and knarloc green and then drybrushed the undercarriage and metal parts with tin nitz. Not much progress made but looking forward to some hobby time on Sunday.
I recently ordered some Forge World Renegade Militia upgrades and plan on using them to make another Ash Waste Gang. Here is a WIP ganger that needs his Chaos logo filled and smoothed with green stuff and some more gear.